Big Mean Sound Machine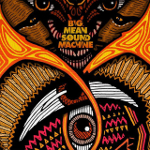 The Touring Band is:
Angelo Peters: Bass, Synths, Percussion
Andrew Klein: Drums, Cymbals, Percussion
Lucas Ashby: Congas, Percussion
Lex Schmidt: Congas, Percussion
Dan Barker: Lead & Rhythm Guitars, Moog Synth
Ray McNamara: Lead & Rhythm Guitars
Dana Billings: Moog Synth, Organs, Percussion
Paul Philippone: Moog Synth, Organs
Bobby Spellman: Trumpet
Alicia Aubin: Trombone
Jamie Yaman: Tenor Saxophone
Tyler Burchfield: Baritone Saxophone

BMSM - Band Home


Available Song Stems:
Contraband:


Your browser does not support the audio element.
Biography:
Background:
Conceived during a lake house recording session in the summer of 2009, Big Mean Sound Machine formed in Ithaca, New York with one goal: to create music that stimulates both Body AND Mind. Today, BMSM's collective of over a dozen analog artists spread out over the East Coast United States bring together the musical languages of West Africa, Latin America, the Caribbean and North America to create a lush bed of rhythm and melody that embraces even the most hardcore fans of both Traditional Funk and Avant-Garde Jazz – and everyone in between. Anyone who has witnessed Big Mean Sound Machine live knows that their performances are among the heaviest and the sweatiest. Those familiar with BMSM's studio releases also know that the band can refine that complex sonic force with unique style and clarity. Big Mean has grown in leaps and bounds by maintaining a busy performance schedule of 100-150 shows each year, captivating cities and festivals all over the United States. For those of you who are tired of the status quo, there is good news: BIG MEAN SOUND MACHINE HAS OFFICIALLY ARRIVED.
Releases:
With the release of their 3rd full-length studio effort, "CONTRABAND," Big Mean Sound Machine adds more critical acclaim to that garnered from the release of "Marauders" (2012) and "Ouroboros" (2011). Recorded live in two sessions in 19th Century churches - including Grammy Winning studio Electric Wilburland, which also served as the setting for Big Mean's 2012 feature length film, "Dr. Iguana: Live in the Studio" – "Contraband" pushes the band even further into uncharted territory. Working with outside engineers Matthew Sacuccimorano (Johnny Dowd, Jennie Lowe Sterns, Black Castle) and Grammy-winner Robert Hunter (Branford Marsalis, Raven) also provided a unique dynamic. Hunter's mastery over analog technology, specifically the 1970's-era Triton console (originally built for Elvis Costello, and frequently used by legendary Zydeco outfit Donna The Buffalo) and the 2" reel-to-reel tape machine it feeds, brings a whole new human dimension to the sound- especially on vinyl.
Collaborations:
In addition to studio releases under the name Big Mean Sound Machine, 2013 saw BMSM collaborating with Ghanaian vocalist Yao Foli "Cha Cha" Augustine, along with members of his reggae band Mosaic Foundation, under the name Cha Cha & The Ndor Band. The Ndor Band released the album "Food For Thought," to raise funds for the Ndor EcoVillage, founded by Augustine in his home village in Ghana, which teaches permaculture and other sustainable farming practices to local farmers. In 2012, BMSM also released "Warrior," with vocalist Jay Spaker a.k.a. J-San (John Brown's Body, J-San & the Analogue Sons) under the name J-San & the Big Mean.
The Future:
In 2015 Big Mean is embarking on the most extensive and ambitious national tour in the history of the band, in support of their latest album 'Contraband'. With shows booked all over the United States and kicking off the new year with a Sold Out show in Ithaca, NY, expanding the Sound Machine family is on the immediate horizon. Release of a 7" vinyl single 45 on Peace and Rhythm Records out of Boston is scheduled for the spring of 2015, and development of our next studio album is already underway. We're excited to see where the future brings us. The grind continues…